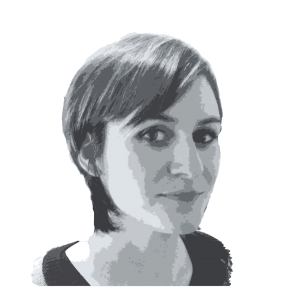 My full name is Celeste Karpman Canseco, I am a Gemini, and I was born in a small town in the Argentine Patagonia (Pico Truncado) in 1986, but I live in Spain since I was 4.
Since then, I have lived in several places on the Iberian Peninsula, starting with Yecla (Murcia) for just 6 months at a very young age. Shortly after we moved to Ponferrada (El Bierzo) where I spent most of my life, where my parents, my little sister and great friends live.
I am the median of 3 sisters and I love dogs, taking walks with them, music, movies, series, swimming, biking, cooking, traveling, humor … Nothing in the other world really!
According to the web 16 Personalities, my personality type is "MEDIATOR" (quite accurate btw).
My time as a university student began in Burgos, where I studied Audiovisual Communication and graduated in 2010. During this time, I opted for the most theoretical part of communication, specifically for written journalism (sector where I did my internship).
This interest in writing and mass media experienced its peak during the Master's Degree in Agency Journalism that I took in the EFE Agency, in Madrid.
After this experience, and thanks to the course "Audiovisual Media Infographist", I got more and more interested in the technical part of communication (which I hadn't pay much attention during university). 
I mean visual communication, iconical and fast, that searches for "common places" that most people share (no matter which their native language is). The score is to transmit an idea jumping over idiomatic barriers, doing it with the help of images.
Images over text as a quick, effective and universal way to communicate. 
I like to communicate universally!
Yeah! I was gettin aware that this kind of communication, the visual, is the most powerful and interesting for me. And the reason is that I really like the idea that people who live far away in the planet, are able to communicate (no matter their language) and realise that all of us, as human beings, share more than what we may think.
So, after moving to Valladolid in September 2014, and after my experience at I Lanzadera de Empleo y Emprendimiento Solidario de Valladolid (a program for unemployed people that helps to find a job, create one or, as for me, know what I'm good at), I was getting interested in creating my own enterprise as a Visual Communicator.
I keep learning Graphic Design
(and exploring ways to communicate visually)
During 2015-2016 I studied the course "Specialist in Graphic Design Projects" at ESI Valladolid, the Superior Design School in Valladolid. There, I learned skills related to the creation of graphic design projects, such as:
Photography (Photoshop)
Editorial Design (InDesign)
Digital Technology (Illustrator)
Web Design
Corporative Identity (Branding)
Packaging
What I've been into lately?
I've been learning digital animation with AfterEffects and also web design with WordPress. Other thing that I've explored slightly, but surely will keep on, because I think it's a great way to transmit information, are Interactive Infographics.