communicate fast with images
You are aware of the increasing importance of

VISUAL COMMUNICATION

, and you want to share your message in a fast way, so that it doesn't require too much time of your audience.
Why VISUAL COMMUNICATION?
Hello! If you are here it's because you want to communicate effectively, quickly and universally and you know that to do so, VISUAL COMMUNICATION is a great ally. Have you noticed that we are going faster and faster and that information is no longer usually consumed calmly, if not rather at full speed? You have most likely noticed that.
And this is where this way of communicating comes into play, visual (but not only text, also images), which although it is not new (it already existed even before written language) is increasingly gaining more importance.
¿Por qué podría ayudar con la COMUNICACIÓN VISUAL de tu empresa?
Tal vez lo que he dicho arriba te suena bien y estás de acuerdo conmigo pero, lo más probable es que no sepas quién soy yo y por qué te estoy contando esto…
A grandes rasgos, decirte que me llamo Celeste y que me encanta la comunicación visual como medio para comunicarme y ayudar a otras personas a que lo hagan.  No obstante, como puede que esta brevísima introducción te sepa a poco, si quieres saber algo más sobre mí, puedes hacer clic en el enlace.
ÚLTIMAS ENTRADAS DEL BLOG: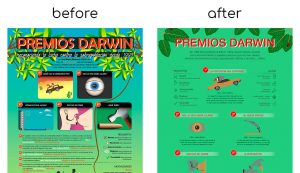 Presentaciones
Creating an infographic from scratch Today I bring an analysis of what I learned about
Continúa >>