communicate fast
with images
You are aware of the increasing importance of VISUAL COMMUNICATION, and you want to transmit your message quickly and effectively, so that it does not require too much time from your target audience.
Why VISUAL COMMUNICATION?
Hello! If you are here it is because you want to communicate effectively, quickly and universally and you know that to do so, VISUAL COMMUNICATION is a great ally. Have you noticed that we are going faster and faster and that information is no longer usually consumed calmly, but rather at full speed? Most likely, you have noticed that.
And it is here where this way of communicating comes into play, the visual (but not only text, also images), which although it is not new (it already existed even before written language) is increasingly gaining more importance.
Maybe what I have said above sounds good to you and you agree with me but, most likely, you do not know who I am and why I am telling you this…
Broadly speaking, my name is Celeste and I love visual communication as a means of communicating and helping other people to do so. However, as this very brief introduction may not be too long for you, in case you want to know more about me, you can click on the link.
LAST ENTRIES OF THE BLOG:
Or the Different Personality Types It is likely that we often think that nobody understands
Continúa >>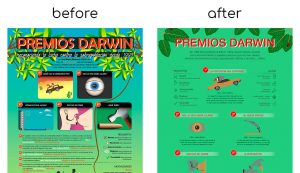 Presentaciones
Creating an infographic from scratch Today I bring an analysis of what I learned about
Continúa >>